Welcome to Malta Artisan Markets
Launched in May 2011 in Vittoriosa, the Maltese Artisan Markets have since taken place fourteen times in beautiful historic settings in Malta including Senglea, Kalkara, Maria Rosa Vineyards in Attard, Palazzo de Piro in Mdina, together with the Easter and Christmas Markets at the Phoenicia Hotel. The markets have been warmly welcomed on the local scene and have given locals and visitors to Malta the opportunity to buy locally produced, fresh, high quality, affordable products direct from carefully selected food producers, artists and craftspeople.
Organised by The Definitive(ly) Good Guide Co – publishers of The Definitive(ly) Good Guide to Restaurants in Malta & Gozo and The Malta Baby and Kids directory. Malta Artisan Markets' aim is to further promote high quality local arts and crafts and quality food products and good eating. The fair is as equally excellent selling point for artists and craftspeople as it is for enterprising individuals who are creating delicious delicacies with local seasonal products and serves as an excellent showcase.
Our next Market will be at beautiful Phoenicia Hotel, Floriana.
Saturday 13th and Sunday 14th December 2014, from 11am to 6pm.
Prices start at €40 per stall for both days.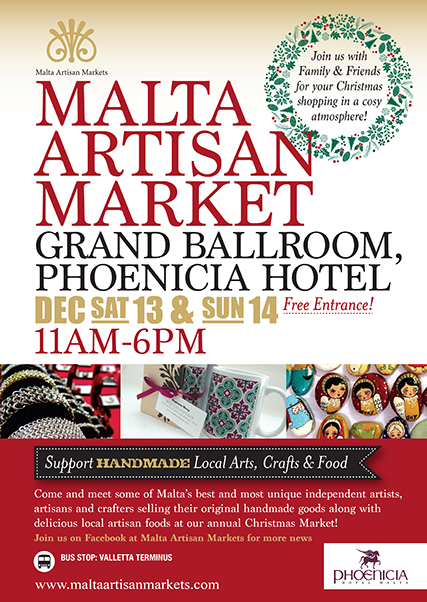 The Malta Artisan Markets organised by The Definitive(ly) Good Guide Co are back with its annual Christmas market. As always set in special locations, the upcoming fair will be held in the stunning Grand Ballroom at the Phoenicia Hotel in Floriana on Saturday 13th and Sunday 14th December 2014, from 11am to 6pm on both days.
This is a family-friendly event, including authentic arts and crafts, mouth watering home made food and kids activities. So come make a day of it buying original Christmas presents followed by a delicious lunch or tea in a lovely Christmas atmosphere.
Look forward to seeing you there! Entrance is Free.
Become a fan on Facebook of Malta Artisan Markets and be the first to discover the next date and venue for the next market.
Thanks to all the team of Artisan Market, it was well organised!
Well done for everything, to anyone involved! I really hope next year the venue will be used again!!!
Well done to all for the organisation, the venue and the artisans. Looking forward for the next one!
A huge thank you to Lisa and everyone who helped to make Saturday and Sunday with MAF such a success! The Palazzo De Piro was a stunning location and the crowds of very appreciative customers just kept coming… It was so lovely catching up with old friends and making new ones too…
Once again a big thank you to the Malta Artisan Markets girls for organising an incredible event at a fantastic venue – Well done! and another thank you to all who visited and especially those of you who chose to become our clients! Just love talking to people who are passionate about art, its history and jewellery in particular Thanks for a fantastic two days! See you at The Phoenicia!
My other fellow artisans have said it all! Thank you MAM ladies, great work as always I was shattered by the end of it all, but man was it worth it!!! Great location, great atmosphere, great people, till the next!
Thank you for a lovely Xmas shopping morning! Congrats to all the organisers and the artisans!
We came, We saw, We bought…..an enjoyable Sunday morning.
Thanks to all the team! It was a great weekend. Looking forward to the next one
THANK YOUUUUUUUUUUU! We sure missed the amazing Malta Artisan Markets! Well done for a fantastic start of a series of markets for 2014!!! Looking forward to the next!!!
Had a total blast this weekend … very big thank you to everyone!!! It all ran very smoothly thanks to the proactive organisation and behind the scene was just such fun.
Thank you also from John and I. We can only reflect what everyone else is saying….this was our first but can't wait to be involved in more. Many thanks to Nevena and the team!
It was a fantastic two days! Thanks to one and all!
Big thank you to Nevena, great job and loved it when we were visited this morning to check if we needed anything! Thank you all – really enjoyed it.
Fantastic location – well done!
Another fantastic Artisan Market Event! Thanks again guys especially poor Nevena who was bouncing all over the place from Friday! Well done! Enjoyed Gozo a lot!
Fantastic event at Palazzo Parisio – such a fantastic location! A big thank you to all the Malta Artisan Market team and all who attended – especially those who purchased our creations
Would like to thank everyone who visited our stand last Saturday at the Malta Artisan Markets in Palazzo Parisio. It was fun participating and meeting everyone. See you all at the next one…
Palazzo Parisio – A beautiful place to be…
Another successful Market! Well done to all the team and here's what blogger Lyndsey Grima had to say about the event: http://splashesoflooks.com/2014/08/event-post-malta-artisan-markets/