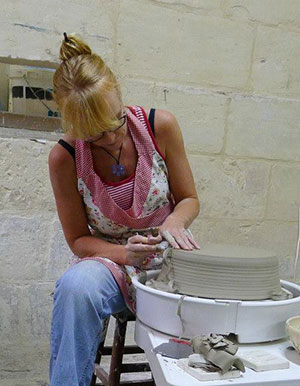 Name: Sue Mifsud
Company name: Sue Mifsud Ceramics
Brief description of my product:
'Uniquely designed, Individually created' studio ceramics.
The majority of my pieces are hand thrown functional ware, including mugs, jugs, cups, bowls, lidded pots, dispensers etc. They are made in my Rabat studio, glazed with vibrant colours and added texture. I mainly work with stoneware clay and fire to cone 6 in my electric kilns.
Why I love participating in Malta Artisan Markets:
There is always a great atmosphere surrounding the MAMs. Visitors are friendly and inquisitive discussing at length the work you create, and other stall holders make you feel part of a close social group. Lengthy hours in the studio on my own culminate with these events and they give me an opportunity to lift my head above ground for some audience feedback.
Sue's little quote to inspire someone to follow their dreams:
Stop thinking about it, and do it, what's the worst that can happen?